Literature museums
The Museum of Czech Literature
Strahovské nádvoří 132/1, 118 00 Praha 1
www.pamatniknarodnihopisemnictvi.cz
The Museum of Czech Literature houses collections covering the literature development and book culture in the Czech lands, as well documents that relate to the life, work, and legacy of Czech literature personalities. Additionally, the Museum boasts a remarkable collection of art objects, mostly from outstanding authors' legacy. The rich fonds contain famous works, such as the manuscript of the theatre play by Karel Čapek, R.U.R., where he first introduced the word "robot" being now used in many languages.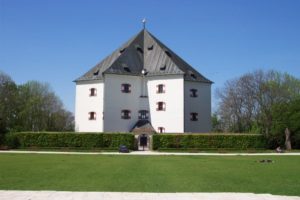 Arts and Theatre Institute
Celetná 17, 110 00 Prague 1
www.idu.cz
The ATI's mission is to provide comprehensive services in the field of theater and other areas of art (music, literature, dance and visual arts). The Institute amasses, processes and makes public objects related to theatre, which are collection items in character, it provides scientific research and education, and cooperates in designing exhibition projects. It participates in a number of international projects, stages the Prague Quadrennial of Scenography and Theater Space; it is also involved in the programme Creative Europe  – Culture.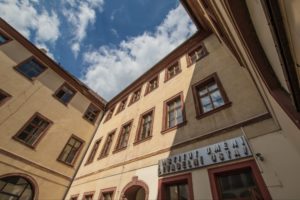 Gallery of Fine Arts in Havlíčkův Brod
Havlickovo namesti 18, 580 01 Havlickuv Brod
www.galeriehb.cz
Designed to specialize in modern Czech book illustration, drawing and graphics within the networks of regional galleries being built that time, the Gallery opened towards 1 January 1965 to perform traditional exhibition activities at the East Bohemian Publishing House. It followed up art competitions by organizing interesting events on the occasion of the National Festivals of Humor and Satire.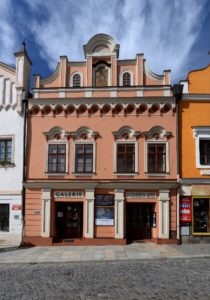 Moravian Library in Brno
Kounicova 65a, 601 87 Brno
www.mzk.cz
The Moravian Library is the second largest library in the Czech Republic holding more than 4,500,000 volumes and documents, including rare historical manuscripts, prints, graphics and maps. Its history goes back to the 18th century. At present, it is one of the leading scientific institutions, especially in the field of digitization and preservation of fonds and collections, and participates in a number of important European research projects.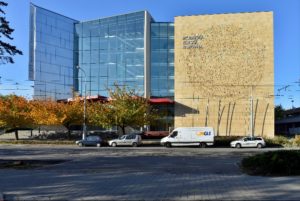 National Library – Department of Library Fond Protection
Clementinum 190, 110 00 Prague 1
www.nkp.cz/o-knihovne/odborne-cinnosti/sprava-a-ochrana-fondu/oddeleni-restaurovani-1
The National Library of the Czech Republic has been dealing with the protection, conservation, and restoration of library collections since 1950. Since the beginning, it has been developing a wide range of methods and procedures in the field of conservation and restoration of rare books and devotes itself to preventive protection. The main activities of the Department of Library Fond Protection and three sub-departments include the restoration of rare written documents and illuminated manuscripts, as well as modern production; and ensuring activities related to preventive protection during their handling, preparation, transport, and exhibition installations. The Department is also a methodological center for libraries in the Czech Republic.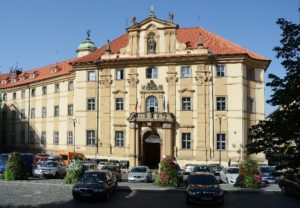 National Pedagogical Museum and Library of J. A. Comenius
Valdštejnská 161/20, 118 00 Praha 1
www.npmk.cz
www.comenius350.cz
The Museum has established in 1892 thanks to Czech teachers as the expression of efforts to preserve and document historical traditions of Czech education, pedagogy and the legacy of John Amos Comenius. Since 2011, a library has been part of the institution whose collection consists of nearly half a million volumes – books (especially textbooks), periodicals, audio documents, electronic documents and maps. Between 2020 and 2022, the Museum coordinates the National Celebrations of the Anniversary of John A. Comenius, which includes the campaign 'Comenius to Classes!'.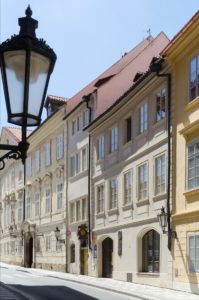 Sladovna Písek
Velké náměstí 113, 397 01 Písek
www.sladovna.cz
'Gallery in Play' is space where children and adults play and create together; they learn from each other, they can freely cross the border between their worlds. The thing that is key for us is teaching in exhibitions, we draw our inspiration from J. A. Comenius's art of teaching: 'much can be learned in play'. Interactive permanent and temporary exhibitions on four floors get visitors involved in game-based activities that encourage their creativity, give inspiration, knowledge, and where they can enjoy experiences.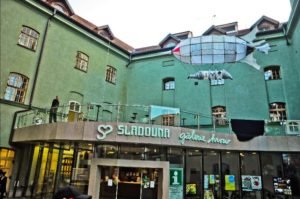 J. A. Comenius Museum, Uherský Brod
Přemysla Otakara II. 37, 688 12 Uherský Brod
www.mjakub.cz
The Museum is situated in Uherský Brod and was founded in 1898. It is mostly devoted to 'comeniology', which is the science of John Amos Comenius's life and work (1592-1670). Nicknamed the 'Teacher of Nations' he was known for his international and pioneering pedagogical work. The Museum closely cooperates with the Comenius Museum in Naarden, the Netherlands. Additionally, the Museum provides illustrations of the regional history, and organizes the international festival of museum films 'Musaionfilm'.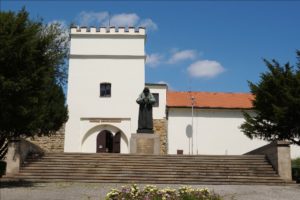 The Postal Museum
Nové Mlýny 2, 110 00 Praha
www.postovnimuzeum.cz
The Postal Museum was the first museum founded in the newly established state, Czechoslovakia. It was on 18 December 1918 when the first Czechoslovak postage stamps – the famous Hradčany Castle designed by Alphons Mucha were issued. In addition to an extensive collection of Czechoslovak, Czech and foreign stamps it boasts a collection of objects from the history of the postal administration (especially horse-drawn vehicles, letterboxes, signboards, uniforms and means of telecommunication) which is on view in the Cistercian Monastery in Vyšší Brod.